Художественная выставка работ Юлии Пустошкиной "Imagine as if..." в Сиднее.
---
Открытие новой художественной выставки работ Юлии Пустошкиной. С 25 апреля по 5 мая, с 11 утра до 7 вечера. Вечер открытия 26 апреля с 6 до 9 вечера. m2 Gallery @ 4/450 Elizabeth Street, Surry Hills, Sydney.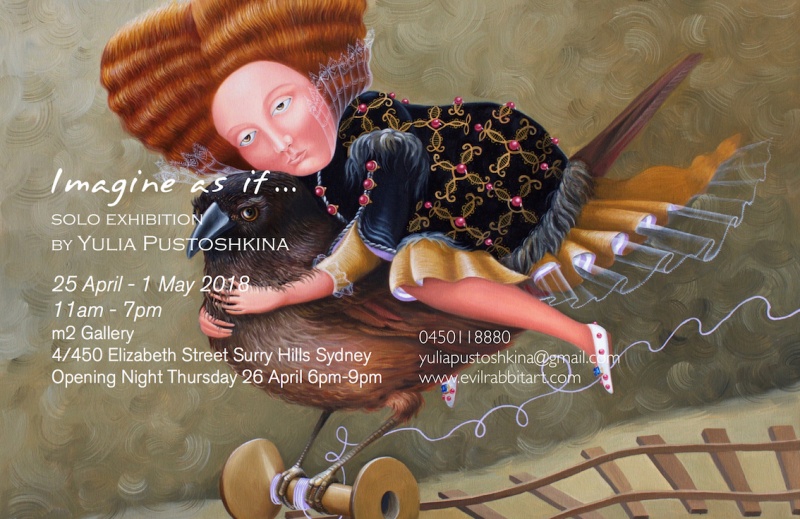 In her second solo exhibition, Russian born artist Yulia Pustoshkina presents an imagined reality of whimsical characters as animals, birds, fish, and for the first time a human form. The exhibition at m2 Gallery features her latest oil paintings of Folkloric Surrealism, infused with the artist's heritage, customs and traditions. Each painting reveals a story through its plentiful thoughtful details and composition. Imagine as if... will transport you to a new place of unexpected where so familiar characters act in a fanciful way. New collection of artworks Faces inspired by the masters of the Renaissance mixed with the artist's reflections on her homeland and memories while promoting timeless essence of beauty and intricate craftsmanship. Another most recent Tea Box Collection reflects on the world of tea uniting it thought its ceremony and describing particularities of each type. These paintings are filled with amusing whimsical animals from every part of the world that any visitor to the exhibition can relate to. Yulia Pustoshkina is a third generation artist born in Russia, immigrated to Australia in 2001. Studying at the Art School of Petrozavodsk, Yulia's painting technique is influenced by famous traditional Russian art schools including Palekh and Loubok. Yulia is an international exhibitor having participated in numerous Art shows across Russia, Finland, Germany, USA and Australia. Most notable exhibitions are her Solo art exhibition Gelato in July at the Bondi Pavilion Gallery 2016, solo exhibition at ArtExpo New York 2017, yearly Hunters Hill Art exhibitions with a few prizes and awards acquired during recent years of work.