Кинофестиваль российских фильмов "Русское возрождение" 2017
---
Сидней, Перт, Брисбен, Канберра, Мельбурн, Окленд (Новая Зеландия)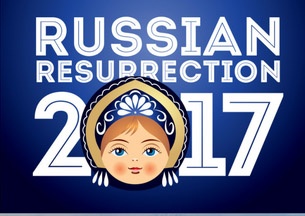 Сидней: 26 октября - 5 ноября в кинотеатрах Event (George st and Burwood)
Перт: 27 октября - 1 ноября в кинотеатре Paradiso, Northbridge
Брисбен: 1 - 8 ноября в кинотеатре Event, Myer Centre
Канберра: 10 - 15 ноября в кинотеатре Capitol, Manuka
Мельбурн: 9 - 19 ноября, ACMI
Окленд (НЗ): 8 - 12 ноября, в кинотеатре Rialto, Newmarket
New adventure film Spacewalkers (2017) is confirmed for the festival this year. Starring renowned Russian actors Evgeniy Mironov, Konstantin Khabenskiy and Vladimir Ilyin Spacewalkers is based on a true story. The film is set during the heat of the Space Race where USSR and the USA competed for supremacy in space. Both superpowers aim to be the first to have a man walk in outer space and it's up to the unlikely duo of a seasoned war veteran and a hot-headed test-pilot to fulfil the mission.
Directed by Boris Khlebnikov Arrhythmia (2017) took home the major prize for Best Film at Russia's Kinotavr in June this year. The arthouse drama went on to make its international debut at Karlovy Vary International Film Festival, where its male lead Alexander Yatsenko won the best actor prize. The film follows the lives of Oleg, a gifted and opinionated paramedic and his wife Katya who works at the hospital emergency department. Caught between emergency calls, alcohol-fuelled sessions and the search for a meaning in life, Oleg and Katya need to find the binding force that keeps them together.
Set in Moscow in Summer 2016 About Love: Adults Only (2017) is a must-see comedy on the program this year. A follow up to the popular 2015 About Love, the film features a new lecture, a new guest lecturer (played by renowned American actor and director, John Malkovich) and a new theme: "How to preserve love in the modern world". Five very different love stories are brought together in this hilarious light-hearted comedy about love.
Directed by Pavel Chukhray, Cold Tango (2017) is set in 1941 as the German Army sweeps into Lithuania plunging its Jewish population, including the young Max and his family, into grave peril. The film brings to life the terrifying realities of life under an oppressive foreign occupation – first by Nazi Germany and then by the forces of the Soviet Union. In this climate of fear and violence, Max meets and falls in love with Laima – a Lithuanian girl whose family takes him under their protection, but who also carry their own dark secrets.
Set in 1904 in the aftermath of one of the battles of the Russian–Japanese war is new drama Anna Karenina: Vronsky's Story (2017). The story follows Sergei Karenin and Alexey Vronsky who find themselves thrown together in a remote Manchurian village, where fate offers them a chance to return to the events long past and, finally, to find the answers both have long been seeking.
The Kitchen: World Chef Battle (2017) is the highly anticipated witty follow-up to the hit Kitchen in Paris. Before meeting Anna, a beautiful French woman, all Ivan was interested in was digital codes and hacker programs. Anna and Ivan both fly to Sochi to compete in the World Championship for Chefs: Anna will represent France and Ivan will cook for Russia. Ivan must earn the trust of his culinary super-team and sort out his relationship with his father, well-known chef Victor Barinov. If only Ivan would stick to the recipes – he may avoid trouble, chaos and prison, all whilst helping television personality and host for the World Championship for Chefs, Dmitri Nagiev, escape a forced marriage.
Snow Queen 3 – Fire and Ice (2017) is a sequel to the popular family animations The Snow Queen and Snow Queen 2. After heroically defeating both the Snow Queen and the Snow King, Gerda still cannot find peace. She is on a mission to find her parents and in Snow Queen 3 – Fire and Ice Gerda and her friends embark on an exciting journey encountering new challenges along the way.
Fast-paced black comedy road movie, Blockbuster (2017) is about two young women on the run and their unlikely friendship as a result of a wild series of bizarre events. A satirical take on modern television, low-rent media and the heroes of our times with each one struggling for the ultimate breakthrough.
All up 14 new films will screen as part of the XIV Russian Resurrection Film Festival.
The dates and cinemas for the Russian Resurrection Film Festival 2017 are:
Sydney: 26 October to 5 November at Event Cinemas George Street and Burwood
Perth: 27 October to 1 November at Cinema Paradiso, Northbridge
Brisbane: 01 November to 08 November at Event Cinemas Myer Centre Brisbane City
Canberra: 10-15 November at Capitol Cinemas Manuka
Melbourne: 09 to 19 November at ACMI
Auckland NZ: from 08 to 12 November at Rialto Cinemas Newmarket
Фильмы
Сидней
Event George Street Cinemas
Opening Night
Thursday 26 Oct
6.30pm - The Bolshoi
Friday 27 Oct
7.00pm - Pique Dame
9.15pm - Runaway Train
Saturday 28 Oct
12.15pm - The Shooting Party
2.30pm - Yolki 5
4.30pm - Cold Tango
6.45pm - About Love. Adults Only
9.00pm - Viking
Sunday 29 Oct
12.15pm - Snow Queen 3 Fire and Ice
2.00pm - Uncle Vanya
4.00pm - Anna Karenina: Vronsky's Story
6:45pm - Blockbuster
8.45pm - The Kitchen. Final Battle
Monday 30 Oct
6.30pm - Paradise
9.00pm - Arrhythmia
Tuesday 31 Oct
6.45pm - About Love. Adults Only
9.00pm - Gloss
Wednesday 01 Nov
6.30pm - Spacewalkers
9.15pm - Blockbuster
Thursday 02 Nov
6.45pm - Cold Tango
9.00pm - Viking
Friday 03 Nov
10.00am - The Shooting Party
6.30pm - Anna Karenina: Vronsky's Story
9.15pm - Tango & Cash
Saturday 04 Nov
1.30pm - The Nest of the Gentry
3.30pm - 12 Chairs
6.30pm - Attraction
9.00pm - Spacewalkers
Sunday 05 Nov
12.30pm - Arrhythmia
2.45pm - Pique Dame
5.00pm - Salyut-7
Closing Night
7.00pm/7.30pm Pre Drinks / Aelita
Event Cinemas
505-525 George Street,
Sydney NSW 2000
Tickets Cinema Box Office
Online https://www.eventcinemas.com.au/EventsFestivals/RussianResurrection17
Opening night Party $65 - Purchase Tickets Click Here
(Incl. Film, Food, Drinks, Band)
Closing night pre drinks + film $40
$22.00 Adult
$18.50 Student/Conc
$16.00 Kids
$48.00 3 film pass
$42.00 Concessions
(3 Film Passes avaliable at Box Office)
Event Cinemas Burwood
Saturday 28 Oct
4.30pm - Blockbuster
6.30pm - Attraction
Sunday 29 Oct
3.30pm - The Bolshoi
6.00pm - Viking
Saturday 04 Nov
2.30pm - Snow Queen 3 Fire and Ice
4.30pm - Yolki 5
6.30pm - Pique Dame
Sunday 05 Nov
1.30pm - Uncle Vanya
3.30pm - Anna Karenina: Vronsky's Story
Westfield Shopping Centre 100 Burwood Road, Burwood
Phone 02 9715 2282
Tickets Cinema Box Office
Online https://www.eventcinemas.com.au/EventsFestivals/RussianResurrection17
$21.50 Adult
$18.00 Student/Conc
$16.00 Kids
$48.00 3 film pass
$42.00 Concessions
(3 Film Passes avaliable at Box Office only)
Enquiries: 02 9715 2282